Judging a Book by its Cover-Just Don't
"Who is that girl?" she asked, squinting warily while jerking her chin forward like a rooster, not so discreetly pointing out the slim, well-dressed woman in question. "She doesn't have CMT! Look at those heels!! Pfft! Forget about it. She's a fraud!" It's true, Jeana did not appear to have CMT on the outside, but her past revealed a different reality. Surgeries on both feet when she was only 16 helped her gait immensely, enabling her to walk brace free today.
However, if you look real close, her pinky toes look funky, betraying a harrowing brush
.
with a surgeon's scalpel. "No need to worry about the little toes on each foot." the surgeon grinned. "I simply removed all the bones! All fixed!" So, instead of hammer toes, sticking up and out, she ended up with cute, floppy, puppy dog ear toes, which prove to be quite the challenge when wearing sandals.
People's CMT vary dramatically from one person to another, and telltale symptoms of foot drop, muscle wasting, fatigue, pain are not always super obvious. So, to my embarrassment, I often forget she has CMT.
But, I forgot you have CMT!!
How many times has CMT gotten me into trouble? When Jeana and I organize CMTA conferences together, we always do our best to make sure that everything is handicapped accessible; tongs are not used, tables are separated, leaving enough room for scooters and wheelchairs to pass, boxed lunches are chosen over buffets. Inevitably, no matter how much we prep the hotel staff, someone always seems to make a mistake, and we have to think fast on our feet to rectify the situation.
At the Patient and Family conference we held in Los Angeles a few years back, I remember the room being stuffy and hot. After 90 minutes of sweating and fanning ourselves with the paper programs, we took our first 15-minute break. "A big round of applause for Dr. So and So…what an informative presentation!" I exclaimed into the microphone.   "Now, let's take a few minutes to stretch and quench your thirst with some nice, refreshing beverages. We'll see you back here in 15 minutes." I walked out into the hall, and what do I see? Big, heavy pitchers of water and lemonade. Merde!
We quickly asked family and friends without CMT or hand weakness to serve the drinks during the break.  After about 5 minutes, I look over at the drink station and our beverage volunteer happened to have wandered off and just disappeared into thin air. People were thirsty….parched even and getting more and more impatient while shifting their weight from left to right, left to right just to stop from teetering over (keeping your balance while standing is difficult with CMT).
I ran over and filled the empty spot for a couple of minutes before my little eye spied Jeana, who was talking, and talking and talking (no surprise there, right?), to a conference attendee.
"Jeana," I blurted out frantically and a bit too harshly,  "if you can't find someone to stay at the water station, just stand here and serve the beverages to these poor people with CMT who are struggling." She looked at me in disbelief. Her face expressed what she was thinking. "Really? You are asking me to fill glasses, dumb ass? I too have CMT!" But being the mature and respectful person we've all grown to admire and love, she nodded her head and made her way to the water station and tried her best to serve our conference clientele. When I realized what I had asked of her, I regretted it….immediately.  Not because I made her suffer, but because she would never let me live this situation down….EVER!  As much as she did not say in the moment, she let her thoughts be known loud and clear after the conference. In fact, she won't hesitate to bring this up when she needs a little extra material to tease me with. I hear her voice now, "Oh, really? I've got a better one. Elizabeth, remember that day when….  "
Sassy!
People with CMT are fighters with motivation, determination, strength, and willpower. Some are a bit sassy, too! One day, wearing my very concerned and sad face,
I said something like, "Bethany, I don't know how you do it every day.  Just putting on socks, braces, and shoes takes so long. It all seems so limiting."   I was attempting, albeit poorly, to relate to her emotionally in some small way.  Thankfully, I have a Master degree in Counseling Psychology, which makes communication with people from all walks of life so much easier (Like Judge Judy below, I'm inflicting some heavy duty eye rolling on myself right now).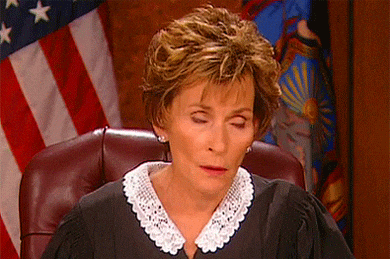 If you know Bethany, she usually thinks through her answers before responding. Not that day! That fine afternoon she was quick and sharp, replying without missing a beat, "Yeah, it's not the best, but I feel fortunate that I'm walking. From wheelchair to walking is a pretty huge deal." There was a short hesitation before she emphatically reminded me that she was able to walk much further and longer than I can…a LOT further and a LOT longer. "You are limited by your foot pain.  My braces have set me free!" she replied without flinching.
IN YOUR FACE! OUCH! Insert knife and rotate slowly 3 times. I mean, what do you say to that? ……..Exactly. I said nothing and followed her progress as she trained to walk a 5-day 40 Mile Trek of Peddars Way in Norfolk, England! She succeeded and came through with flying colors!
Just Ask
I had spoken over the phone to Bethany quite a few times before she moved to the Bay Area in 2012. We had some great conversations, talked about volunteer opportunities and CMTA-related projects. When she moved here, we made a lunch date. I drove. On the way to the restaurant, I asked 100 million questions to which she sequentially answered, "Yes. No, I don't know"  over and over again until I got really bad cotton mouth from talking too much. So, I stopped blabbering and lived painfully through seconds upon seconds of dreadful silence (The longest ten seconds I'd ever experienced –  it felt more like 10 hours- can you tell I'm an extrovert and hyperactive?) Bethany started to loosen up by the end of lunch, and I caught a few glimpses of the witty and sardonic person living and breathing underneath that cloak of quiet reservation.
Heading back to the car, we crossed the road and I saw that she was struggling a bit to walk, but I did not know if she needed or wanted help. What to do? So, I did absolutely nothing. I pretended she wasn't struggling and that everything was A-Okay. Walking a step or 2 in front of her, I heard a faint whisper, "Elizabeth?"  I turned around to an outreached hand.  "Can you give me your arm to cross the road?" she asked politely (her mother did a hell of a job teaching this girl manners). My elbow jutted out in a microsecond and off we went, arm in arm across the road. Walking harmoniously side by side, she interjected, with a mischievous grin," Jeesh. You of all people did not think of lending a helping hand? I'm so disappointed." WHOA! The girl is a live wire….a comedian! This snarky comment was proof that her dad was also very involved in her upbringing. From that moment on, we became forever friends.
Laughter Really is the best Medicine!
The CMTA held its first-ever leader conference in Las Vegas many years ago. Leaders from all over the US attended, forming bonds of friendship and caring. The first evening, after dinner, we all made our way to our rooms, preparing for a very long day ahead. Breakfast was at 8am sharp the following day. At 7 am, Pat D. our Director of Community Services at the time called me with an urgent request, " One of our leaders needs help buttoning and zipping his pants."  Apparently, he lived with family and on his own, buttoning and zipping were practically impossible. "Why do I have to go?" I groaned.  "Can't we get Dana to go help him…man-to-man? Now, on the verge of yelling, Pat reminded me that, "Dana can't button or zip his own pants, how is he going to button someone else's pants?" Good point.
So, off I go to room 3016. When he opened the door, I could tell by his red cheeks that he was quite embarrassed. I felt a bit awkward, but what were our alternatives? I could have insisted that he attend the conference in his boxers, but I'm not usually that mean. So, I simply knelt down in front of him, (please do not visualize this scene!) zipped and buttoned him up and made a joke about the entire scenario. It was a true bonding experience.  The rest of the conference was a no-brainer compared to that experience.
To all my friends with CMT, thank you for trusting me with your struggles, accomplishments, thoughts, and anxieties. And thank you for your patience. I've learned so much from every single one of you and continue to learn more every day. And, when I mess up, let me know  – my closest friends don't let me off the hook, why should you?